Joplin Family Home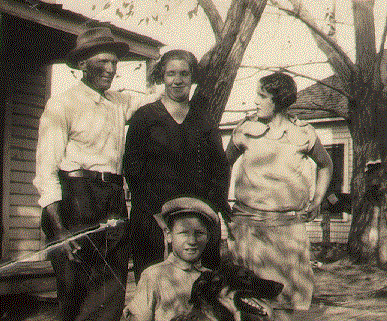 William Lewis Joplin and his wife Lu Ella Willis Joplin
Son Freddie Joplin and Daughter Gladys Joplin
When my grandparents, Will and Luella Joplin had their last two children Frederick born January 18, 1917 and Johnny born January 23. 1916 they decided it was time to get a house "in town". They bought a home right next to the high school in Coulee City, Washington.
This home became the hub for all of the Joplin/Willis family for many years to come. The kitchen door was always open and it seemed with no effort my grandmother, Luella was able to always set an extra place at the table.
Luella made sure the house was full of good things to eat and Will always made sure that the house was full of music.
There was a piano in the front parlor where Grandpa would energetically play old favorites like " Bill Bailey" and some mountains songs that I have never heard any place else.
My favorite was "Everybody Works at Our House But Our Old Man."
"Everybody works at our house but our old man,

Mama took in washing, so did sister Anne,

Everybody works at our house but our old man.

Papa went to work one day,

carpet on the floor,

sumptin we never had before,

Everybody works at our house but our old man."

On Sunday, (after church) the aunts, uncles, children and grandchildren would all gather at the Joplin's to share food and music. The little front parlor would be filled with the sound of piano, guitars, fiddles and voice. This was almost as delicious as grandma's chocolate cake.