OBITUARIES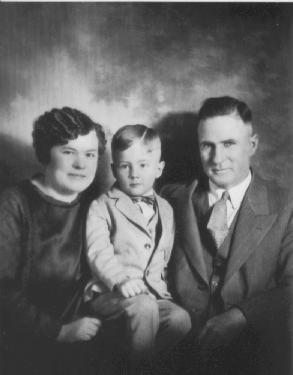 Emory Everett Joplin, Zelma Feaster Joplin, Wayne Joplin
EMORY EVERETT JOPLIN, 88 the son of Jake and Martha Warren Joplin was born January 10,1888 , in Bentville, Mo. and passed away May 4,1976 at the Golden Valley Hospital in Clinton, where he had been a patient for the past two months. He had been in failing health for several years. He bore his suffering patiently, and never failed to express his gratitude to those who cared for him. His sister -in-law Ruth Cobb, tenderly cared for him until he required hospitalization.
He was united in marriage to Miss Zelma Feaster on March 18, 1916. To this union one son, Wayne was born. He professed faith in Christ in 1929, and united with the Baptist Church of Arkansas City,
Kansas,later moving his membership to the Hopewell Baptist Church. He was employed as a fireman and engineer for 40 years., the last 15 years with the Rock Island Railroad,retiring in 1957. He was a country boy, and never lost his love for the country, and loved to hunt and fish. "Uncle Everett " was a kind and gentle man, beloved by his nieces and nephews. He, with his wife. left his work with the railroad and came back to Mo. to care for Olan, Olna, and Orris Weaver Copp, after their mother's death. He was the only paternal grandfather Tammy and Ronald Cobb ever knew. The love they shared was mutual. Mr. Joplin was preceded in death by his wife, Zelma, a sister Hurley , 3 brothers, Harlace, Eldon and Glen 2 step-brothers Girth and Earnest Cobb, Survivors are is son Wayne, of St. Charles, Mo. a Brother Arnie Cobb, of Kingsville, Mo., 5 grandchildren, a number of nieces and nephews, other relatives and friends. Last rites for Emory E. Joplin were held at the Reser Funeral Chapel at 2:30 P.M. on May 7, The Rev. Gineth Hudson officiating, pallbearers were John Ed McLerren, Warden Leiber, W. C. Suiter, Junior Copp, Lowell Cobb Jr. and Edwin MCLerran. Burial was in the Hopewell Cemetery.

---
The following information is from the "History of Luzerne County" by
Bradsby, pages 1042-1043.
GEORGE JOPLING, miner, Inkerman, Jenkins township, was born in Mill Creek, Schuylkill Co., Pa., October 12, 1852, and is a son of James and Jane (Routledge) Jopling, of Inkerman. At the age of thirteen years he began working about the mines as errand-boy, has since been engaged in the various occupations pertaining to mining, and has been mining since1868. Mr. Jopling was married June 29, 1879, to Miss Sarah, daughter of Richard and Elizabeth (Foster) Bostock, natives of Durham County, England. They have three children, viz.: Olive, Bartholomew B. and Howard S. Mr. and Mrs. Jopling attend the methodist Episcopal Church, of which she is a member. He is a member of the P.O.S.of A. and the K. of H. His political sympathy is with the Republican party, but he votes irrespective of party lines. He built his present residence in 1887.
---
HENRY JOPLING, inside foreman at the Pennsylvania Colliery, No. 14, Inkerman, Jenkins township, was born in the County of Northumberland, England, July 30, 1833, and is a son of James and Mary (Bainbridge) Jopling. His father, who was a miner in England, and also in America, whither he brought his family in 1851, reared ten children, of whom Henry is the seventh. Our subject has always been engaged about the mines, including fifteen years mining and twenty-one years bossing. In 1855 he was married to Miss Ruth Rutledge, of Inkerman, who died eleven months later, leaving one child, also deceased. On January 7, 1857, Mr. Jopling was married to Miss Ann, daughter of John and Ann (Merry) Adamson, natives of Scotland, the fruit of which union was ten children, five of whom are living, viz.: Ann (Mrs. George L. Walker, of Plains), Mary (Mrs. William Mitchell, of Inkerman), John (assistant mine foreman
with his father), Henry (married to Miss Annie, daughter of Mary E.
(Sprinker) Pullman, of Alexandria, Va., and natives of England and
Maryland, respectively), and Sarah, a sweet-faced school-girl, still at
home. Mrs. Jopling died July 3, 1885, and our subject was afterward
married, January 19, 1888, to Miss Jane, daughter of James and Agnes (Black) Robertson, natives of Scotland. Mrs. and Mrs. Jopling attend the Presbyterian Church, of which she is a member. He is a F.&A.M.; a Republican in politics, and has held the office of justice of peace in Jenkins township.
---
JAMES JOPLING, a prominent citizen of Inkerman, Jenkins township, was born in the County of Northumberland, England, August 29, 1828, and is a son of James and Mary (Bainbridge) Jopling, the former of whom was a miner in both England and America. They reared a family of nine children, five of whom are living, viz.: Ann (Mrs. Robert Baxter, of Duquoin, Ill.); Robert, a shoemaker in the State of Missouri; James and Henry, of Inkerman, and Bartholomew, a miner in Duquoin, Ill. Our subject, accompanied by his brother, John (since deceased), came with his family to America in 1849, and located in Mill Creek, Schuylkill Co., Pa., where he resumed his former occupation of mining, and remained
seven years, when he removed to Inkerman, where he followed same
business till 1875 -- mining in all about forty years. He then embarked
in mercantile business, continuing at same some fourteen years, after
which he retired from active life. Mr. Jopling was married, June 27,
1849, to Miss Jane, daughter of George and Ruth (Gardner) Routledge, natives of England, and they had eight children, six of whom are living, viz.: George, Ruth (Mrs. William A. Reed, of Scranton), Mary (Mrs. Thomas Walker, of Inkerman), James (a carpenter in Scranton), Sarah J. (Mrs. William Rooke, of Peckville, Pa.), and Anna, who is still at home. One son, Thomas, died at the age of thirty-nine, leaving a widow and six children in Yatesville. Mrs. Jopling died September 23, 1869, at the age of forty-three years. Our subject is a member of the Methodist Episcopal Church, and in his political views is a Republican.
Bedford, County VA
THOMAS B. JOPLING-deceased- was born in Bedford county, September 25, 1810, and departed this life on the 1st of November 1867. He was the son of James Jopling, who died October 5, 1852 and Nancy (Martin) Jopling who died February 10 1827.. In Franklin County, Virginia, September 2, 1845, he married Sarah E. Webb, who was born in that county, April 18, 1829. The record of the twelve children born to them is: James E. born June 3, 1846, lives in the Charlemont District; William Bennett, November 23, 1847, lived in Texas; Thomas C., April 1, 1849 lives in Liberty; Nancy Rice, December 15, 1850, died January 20 1870; John C., October 14, 1852, died July 23, 1861; Morton I., August 14, 1854; Jesse S., February 10, 1856; Fanny W.., October 9, 1858; Lemuel Reed, May 30, 1860; Ida W., July 17, 1862; Wilkes, September 7, 1864; Mary L., August 25, 1866-these seven living with or near their mother. The two oldest sons, although exempt from military service on account of non-age, volunteered in defense of their State, and served in the army of Northern Virginia. Creed T. and Mahala (Booth) Webb were the parents of Mars. Jopling. Her father died July 25, 1868. Mars. Jopling has a farm of 500 acres, 400 acres under cultivation, and said to be the finest wheat farm of Bedford County. Her post office address is Goodes, Bedford county, Virginia.
THOMAS C. JOPLING-is of Welsh descent, his ancestors in the country settling at an early date in Eastern Virginia, whence his grandfather came to Bedford County. His father was Thomas B. Jopling, born in Bedford County, who married Sarah E. Webb who was born in Franklin County, this state. Thomas C. was born in this county, April 1, 1849, and was married in Roanoke County, Virginia, June 8, 1875. His father is deceased his mother is still living in Bedford County. His wife is Annie W., daughter of David and Fannie R. (Schenk) Barnett. Her father was born in Montgomery County, Virginia, and lives in Roanoke county; her mother was born in Bedford County, and died in Roanoke. Mrs. Jopling was born in Bedford County, October 21, 1855. Fannie Moaude, first-born child of Mr. and Mrs. Jopling, whose birth was on the TH of March, 1876 is deceased. They have two children, Annie W., born January 12, 1878, and Harry T., born November 18, 1879, with them. Two brothers of Thomas C. Jopling were Confederate States soldiers, E. B. in the 2nd Virginia Cavalry, and James E. in the Reserves. Thomas C. Jopling was for three years extensively and successfully engaged in brick making, but at the present proprietor of the Windsor Hotel at Liberty, and has a good farm in the Otter district. His post office address is Liberty, Bedford County, VA.
MRS. JOPLING'S FUNERAL TO BE HELD AT RADFORD
Radford (Special) Daughter of the late James Hoge Tyler, a form Virginia Governor, Mrs. Sue Tyler Jopling died Sunday afternoon at her home in Norfolk.
Funeral will be held in Tyler Memorial Presbyterian Church here Tuesday at 3 pm with burial at West View. The family has requested that flowers be omitted.
Mrs. Jopling was born at "Belle Hampton," the family home in Pulaski County. She was a daughter of James Hoge Tyler and Sue Hannet Tyler. She was married to the Rev. Henry Harrison Wilson of Radford, a number of deices and nephews.
DEATHS - REV. R.W. JOPLING
June 8, 1944
Rev. R.W. Jopling died in Radford June 8. Pneumonia is said that have caused his death. Rev. Mr. Jopling was a son of the late William W. and Sue Clayton Jopling, of this County.
He married Miss Sue Tyler of Radford, daughter of a former governor of Virginia, who survives him. He is also survived by one daughter, a sister, Mrs. L. D. Marshall, of Lynchburg, and several nieces and nephews.
Since graduating from Princeton University about 1900, he was active in the ministry of the Presbyterian Church, having been pastor of University Presbyterian Church at Austin, Texas for several years and coming from there to Lancaster, S.C. where he was instrumental in erecting a handsome and modern brick church. He was pastor of this church about 20 years, until his retirement two years ago on account of declining health.
The funeral was at Radford Friday Afternoon with burial in West View Cemetery.
Abstracts from the complete obituaries glued into the back pages of the J. P. Bondurant family bible
MRS. JULIA ANN JOPLING wife of Wm. W. Jopling, Esq., of Bedford county, Virginia. Born 21st of January 1821. Died 3rd of August 1856, in her 36th year. Member of the Presbyterian Church for 23 years funeral preached by J.R. Waggener.
(Married on the 2nd of December, 1940, by the Rev. Jacob D. Mitchell, Mr. William E. Jopling to Miss Julia A. only daughter of Mr. Rufus Thomas; all of Bedford County.)
MARTHA MILDRED (JOPLING)
Died at her father's residence in Bedford county, Virginia, on 3rd of July at 7 am, aged 2 years 1 month and 17 days. Infant daughter of Wm. W. and Julia A. Jopling
RUFUS THOMAS
Died Bedford County, Virginia, on February 4, 1850 (?0, in his 74th year member of Peaks (Presbyterian Church) more than 50 years and ruling elder for more than 30 years.
MRS. SUE E. JOPLING
Born October 15, 1826. Married Wm. W. Jopling June 8, 1858. Died Sunday Morning at 2 o'clock, June 5, 1887, in her 61st year. Daughter of Robert M. and Julia A. Clayton, an grand-daughter of Michael Graham, all members of the Presbyterian church. Left ten children, five of whom were stepchildren. invalid for about four years from inflammatory rheumatism.
MR. T.C. JOPLING (Tom)
Died April 19th, 1888, at home of his father near Liberty, VA. Son of Wm W. Jopling, brother of JR Jopling. His name was Thomas Clayton Jopling. Born in Bedford, Virginia, June 22, 1861. Longtime resident of Danville, Virginia,and member of Dr. Edwards's church there. Funeral service preached by R.W. Watts. "But disease had laid his mark upon him, and all the efforts of the best physicians, a loving father, devoted brothers, sisters and friends we unavailing." (Probably TB)
JULIA ANNA JOPLING
Second daughter of Wm. W. and Julia A. Jopling, born Bedford County VA on the morning of November 2, 1893 of TB. Spent some years with her sister Mrs. J.P. Bondurant in Augusta and returned to live with her brother James R. Jopling a prominent merchant in Danville, VA. Laid to rest in the "old family burial grounds, near Peaksville beside her mother who died many years before her." Funeral conducted by Rev. J. H. Proctor of the M. E. Church and assisted by Rev. John Ruff, of the Presbyterian Church.
W.B. JOPLING
Funeral Notice. The friends and acquaintances of Mr. and Mrs. W.B. Jopling and Mr. and Mrs. J.P. are respectfully invited to attend the funeral of Mr. W.B. Jopling from his residence, No. 347 Walker Street, this (Thursday) Afternoon at 4 o'clock.
From the Augusta GA paper.
WILLIAM BASCOM JOPLING
Born in Bedford County VA, July 24, 185000, the second son of Wm.w. and Julia A. Jopling. Died of paralysis of the heart and was ill only one day. Died at his residence in Augusta GA., August 28, 1889. Left VA when only 19 and came to GA. In September 1878 he married miss Kate Bondurant, only daughter of Mr. J. P. Bondourant. This union was blessed with five lovely children, four of whom survive him , to mourn their great loss. laid to rest by the side of his little Kate, in our beautiful cemetery.

Home